FiNMAXFX Review 2021
FiNMAXFX is the trading broker of Max Capital Limited – a fintech company in Vanuatu. This company is licensed by the Vanuatu Securities and Exchange Commission (VSFC) under the Registration Number 41072. Its headquarter is located at Port Vila, Vanuatu, PO box 1276. FinmaxFX is also an initiator of National Association of Forex Dealers (NAFD).
As a pioneer in the fintech industry, FiNMAXFX allows its clients to access around 400 assets from a wide range of financial markets including Forex, Stocks, Crypto, Energies, Metals, Indexes, Commodities and Bonds. Moreover, this broker also offers comprehensive education courses, award-winning trading platform, excellent support services and other benefits.
Trading Education
A journey of a thousand miles begins with a single step and the step we want to mention here is learning. Many traders are overwhelmed by the perspective that online trading can make them rich quickly which results in tons of money being invested indiscriminately. And what is the outcome? Most of them end up in losses that can take years to retrieve.
For those reasons, FiNMAXFX chooses a different approach as it aims to foster its client's trading knowledge base priorly. Visiting FiNMAXFX website, you can see that it dedicates a section for the Education where you can learn from ebooks, video lessons or webinars. And it's even better to know that all of these materials are free for FiNMAXFX's clients.
Ebooks: Basic introduction to the trading world and how you participate in financial markets with different instruments like Forex, Stock and other CFDs.
Video lessons: Brief overviews on various topics like markets, technical indicators or trading psychology. These video lessons come with narratives and illustrations to make it easier to understand for learners.
Webinars: Live Streaming seminars hosted by experts to deal with every aspect in trading including guiding how to use the trading platform, introduction to trading opportunities or trading strategies interpretation.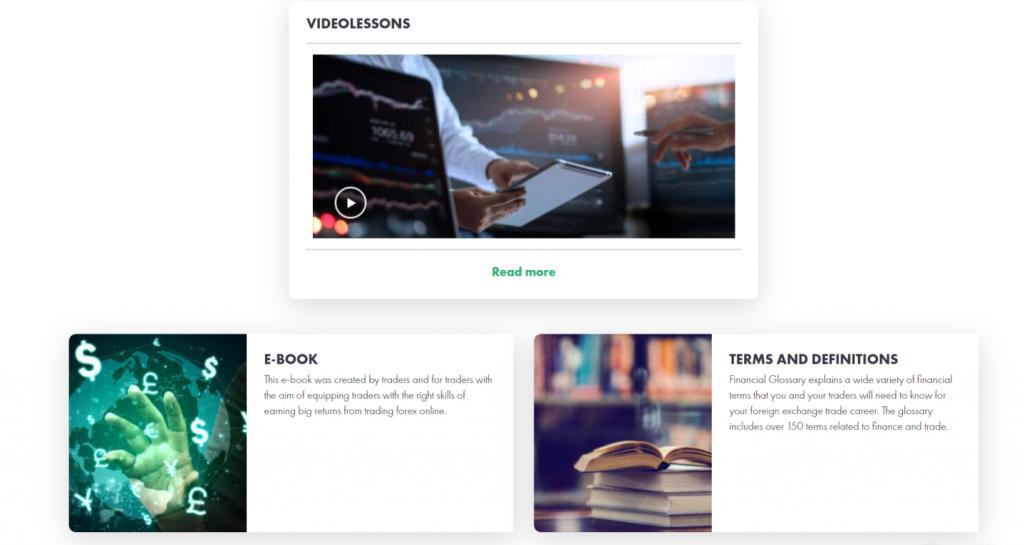 Besides, FiNMAXFX also has a glossary so new traders can quickly look for terms and their definitions. All education forms come with a progress bar so that traders can track their progress and see their improvement.
With these above materials at your fingers, you can choose either to learn by yourself or join with others in interactive webinars. Another advantage of webinars is that you can rewatch them easily on FiNMAXFX youtube channel. Therefore, even if you live far away or can't join the live lecture, you won't miss anything.
Trading with Analysis
Finishing the learning courses, if you still feel a little bit unconfident in your market assessment skill, just visit the Analytics sections to seek reviews and analyses. Experts and senior traders of FiNMAX post weekly reviews and technical insights on Forex and other markets. You can make use of them to confirm your prediction or to learn to gather the news, break them down and sum them up to come up with the most accurate predictions.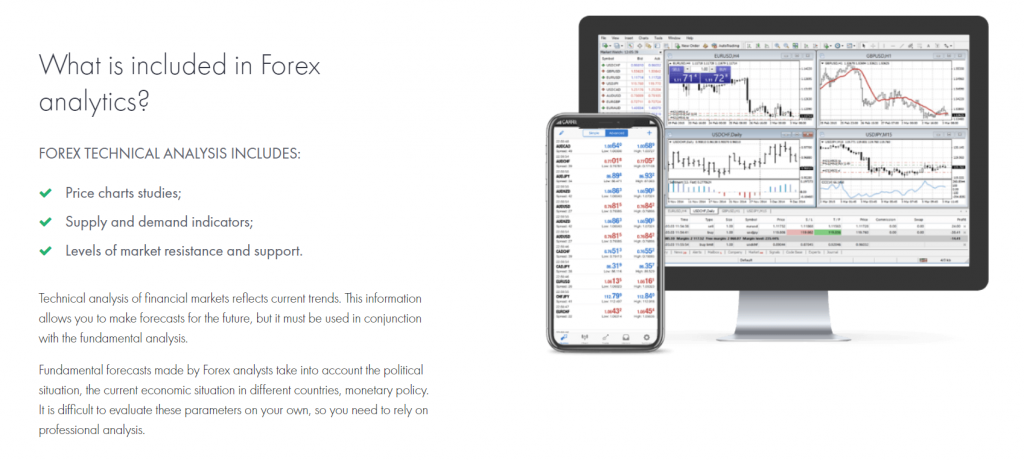 This section also works as a blog where you can read many articles relating to the predecessor's advice and point of views. And if you want new approaches to the trading strategies, you can also find them here. FiNMAXFX also shares detailed instructions to different strategies step by step with illustrative examples and interpretation.
Trading Platform
The trading platform is the core feature of any broker as it directly delivers the broker's services, offers and is the place where traders spend most of their time on. For those reasons, FiNMAXFX offers its clients the advanced trading platform MetaTrader 5 (MT5). MT5 is also one of the most common trading platforms, besides its predecessor MT4.
With many significant improvements, MT5 can provide powerful analytic tools, a diverse set of timeframes and charts and the automation capability. Everything is an intuitive interface. Some notable features of MT5 are:
21 timeframes
44 graphic objects and 38 technical indicators
Both hedging and netting allowed
6 pending orders
4 execution modes
Depth of the market (DOP) available
Community chat integrated
Multi-threaded strategy tester
Trading signals and copy trading allowed
As can be seen, besides several improved features, MT5 provides many powerful functions so traders make more precise analyses, test their strategies more carefully and save their valuable time by creating an automated trading system.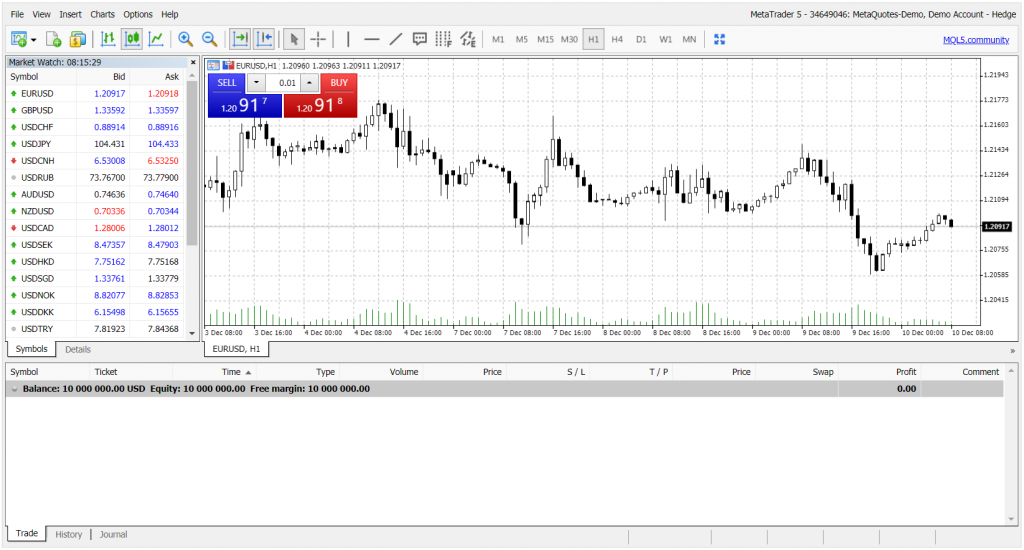 FiNMAXFX offers free MT5 on all devices:
Desktop (Windows, Linux, macOS): You need to download and install the MT5 software. This software is already built-in with MAX Limited server so clients just need to login to their trading account to start trading.
Mobile devices (Android, iOS): The MT5 is available in all application stores like Google Play or AppStore but you need to search for MAX Limited server to login to your FiNMAX account. The application will remember your configuration and you can access instantly in the subsequent times.
Webtrader: This version requires no download and can be accessed from any devices. However, you have to visit FiNMAXFX, login to your account before accessing the Webtrader via your trading account.
Access to Financial Markets
Another advantage of MT5 is that this trading platform can give users access to many financial markets rather than just foreign exchange. Thanks to it, traders can speculate CFDs on many instruments at FiNMAXFX:
Forex: All major, minor and exotic pairs (Max leverage of 1:200)
Stocks: Over 160 companies' shares (Max leverage of 1:20)
Cryptocurrencies: All of the most popular coins (Max leverage of 1:10)
Energy carriers: WTI oil, Brent oil and natural gas (Max leverage of 1:100)
Spot metals: Gold, Silver, Platinum, Palladium, Copper (Max leverage of 1:200)
Indexes: From all of the major economies like the US, UK, Germany, China and more (Max leverage of 1:200)
Commodity futures: Grain markets such as corn, wheat, coffee and more (Max leverage of 1:100)
Bonds: From the US, UK, EU and Japan
Traders should note that the leverage and trading hours are different between assets so you should check for the information on the Trading Instruments section on the website and watch the server time of the MT5 at FiNMAXFX (GMT +3).
Social Trading
Social trading or copy trading is an automated function on MT5. If you are a new trader who lacks skills in determining entries and exits or you just simply don't have much time to scan the market then this is for you. All you need to do is to look for experienced traders with good records on the MT5 community, register for his trading signals and start copying his orders.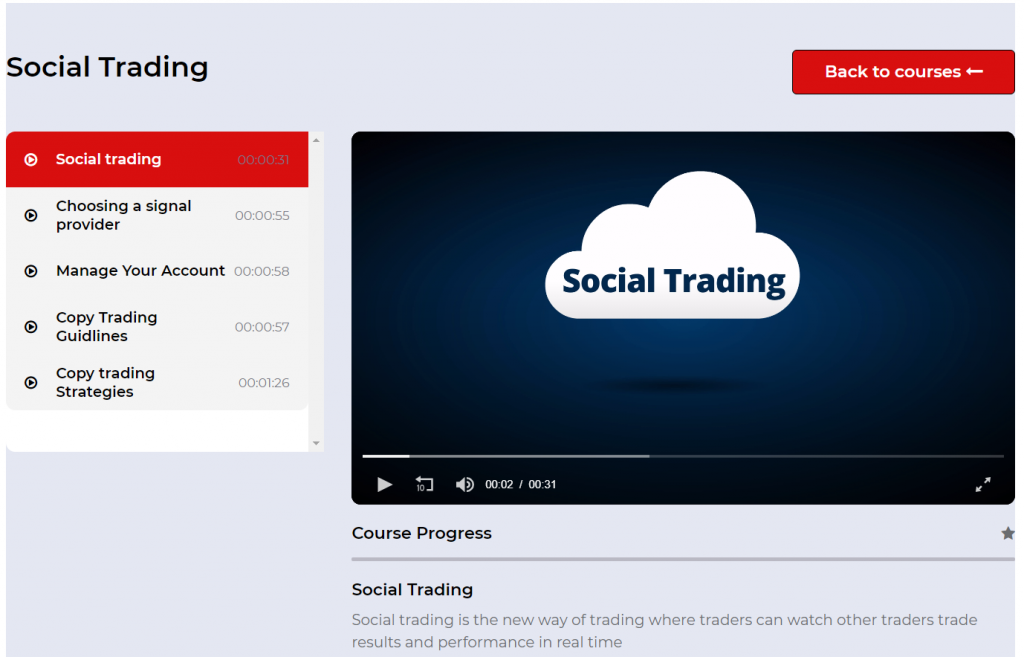 Since this also means you are betting your money on others' hands, you need to check the profile and test the signals with your demo account carefully before applying with your real money.
Registration
Signing up at FiNMAXFX is an effortless procedure. Clients have to fill in a short application form and check the T&C. After that, your trading account is created instantly and you can use some services such as education courses or opening a demo account.
Nonetheless, to trade the real markets and to withdraw your profits, you need to validate your account by providing your personal documents. These papers include an ID (national ID, passport, driver license) and residential proof (utility bill, bank statement). It takes a few minutes to 1 or 2 hours to finish all of the registration processes at FiNMAXFX.
Deposit & Withdrawal
Traders just need to deposit the amount of only 250 USD/EUR to start trading at FiNMAXFX. This broker accepts many payment methods including conventional ones like bank transfer or credit cards and modern ones like e-wallets (Yandex, Webmoney, Qiwi). Payment via bitcoin is also applied.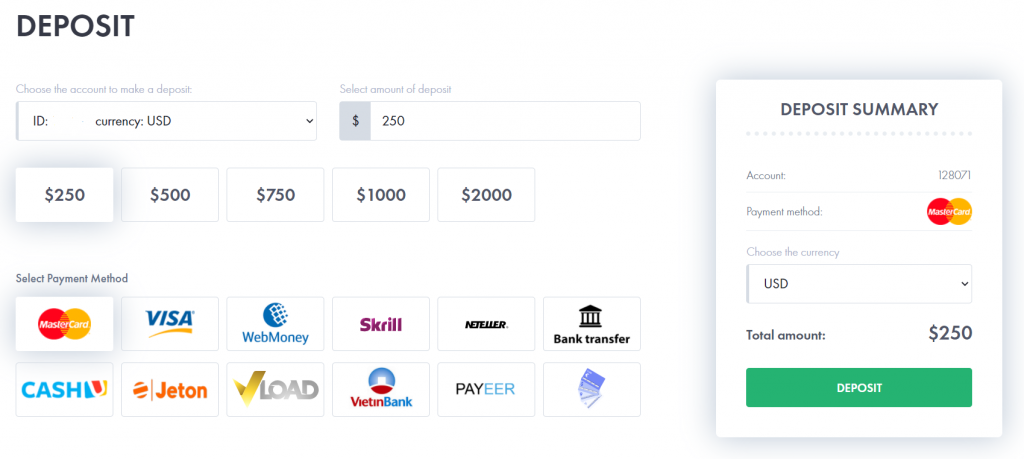 While the deposit is free of charge, withdrawal requires commissions depending on the payment method. Besides, the minimum withdrawal amount starts from $10.
Account Types
Based on the deposit amount, FiNMAX classifies its clients into 5 classes, each of which comes with a particular set of offers and benefits:
Micro account (Starts from $250): Up to 30% bonus, up to 48 hours of withdrawal, 1 webinar with a personal analyst;
Mini account (Starts from $1,000): All of the micro account's benefits, 2 webinars per week;
Standard account (Starts from $5,000): All of the mini account's benefits, up to 50% bonus, one free withdrawal per month, signals from Trading Central, daily market review;
Premium account (Starts from $25,000): All of the premium account's benefits, up to 80% bonus, up to 24 hours of withdrawal, 3 webinars per week;
VIP account (Starts from $100,000): All of the VIP account's benefits, up to 100% bonus, up to 5 hours of withdrawal, unlimited webinars, 24/7 personal manager.
The Bottom Line
FiNMAXFX offers traders opportunities to reap the profits from 8 financial markets via an advanced trading platform. It also creates a dynamic and efficient trading environment by providing various analytic tools, social trading services and account types that meet the demand of each trader segment. All of these advantages have made FiNMAXFX become one of the best brokers in Vanuatu and Europe.